B2B Contact
Trade customers / reseller Information:
The mentioned prices are prices for end-users starting from one piece.
You are interested in purchasing products of Carl Dick commercially?
You are searching something for an event or promotion?
You have any animal as >company logo or you are simply searching for great gift ideas for your customers?
You are reseller and you are searching for reasonable shopping facilities?
Special editions (OEM) starting from a certain number of items are also possible.
If you have a business registration or if you can affirm your company on the basis of a website, please follow the following link to our partner company: Carl-Dick Website (click here).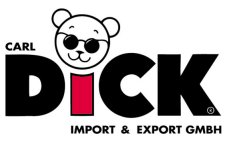 Remaining stock, samples, etc. will be given to the local organizations. Because of that the huge of inquiries (10 to 20 a day) relating to advertisement, raffle, donation etc. cannot be served. The products of Leosco may be purchased commercially by associations, too. Thank you for your understanding.